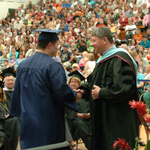 The Brainerd campus commencement event was held Thursday, May 16 at the Brainerd high school gymnasium. 300 graduates were honored at the 2013 commencement program. Approximately 2,200 family and friends of the graduates were in attendance for this year's event. The music for commencement was performed by the CLC Community Band, conducted by Steve Anderson.
Students graduated from the following programs:
Associated in Arts Degree, A.A. Degree Honors, Engineering, Nursing, Young Child Education, Accountant, Business Management, Child Development ASL, Child Development Care and Guidance, Computer Information Technology, Computer Network Administration, Criminal Justice, Dental Assisting, Horticulture, Marine and Small Engine Technology, Medical Administrative Secretary, Natural Resources Law Enforcement, Natural Resources Technology, Special Education, Welding and Fabrication, Administrative Support, Automotive Technology, Computer Support Specialist, Floral Design, Individualized Studies, Landscape Technology, Occupational Skills, Practical Nursing, Sustainable Greenhouse Production, Bookkeeping, and Entrepreneurship,
Platform guests included Dr. Larry Lundblad – CLC President, Kelly McCalla – Vice President of Academic Affairs, Kari Christiansen – Vice President of Administrative Services, Julie Jo Larson – Alumni Representative, Darci Goeden – Nursing Instructor, Rachel Bartosh – Student Senate President, and guest speaker Stephen Sabin – President of the MN State College Student Association.
Central Lakes College Brainerd received 1,037 applications to graduate from eligible students for the academic year 2012-13 at both the Brainerd and Staples campuses. 140 students participated in the Staples campus commencement event on Wednesday, May 15.