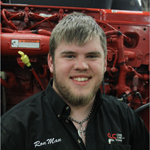 Boston, MA – Campus Compact has named 181 student leaders who have demonstrated an investment in finding solutions for challenges facing communities throughout the country as 2013 Newman Civic Fellows. Nominated by their college and university presidents, these students are making the most of their college experiences to better understand themselves, the root causes of social issues, and effective mechanisms for creating lasting change.
Central Lakes College diesel program student, Ronnie Turshenski was one of the select students from across the nation to receive this honor. As Diesel Club President, Ronnie has effectively focused his club members on great regional civic engagement projects. Under his leadership the Diesel Club has done an immense amount of work on the Old Wadena Society Bog Walk Project. Ronnie has also lead his club in helping the city of Staples, MN by decorating the outside of the Train Depot with Christmas lights. Ronnie is an active member in the campus Student Senate and will be competing at Skills USA this spring in the Diesel and Heavy Equipment Technician Skills Contest. Ronnie has a 4.0 grade point average and sets a high standard of excellence for his fellow classmates.
"These students represent the next generation of public problem solvers and civic leaders. They serve as national examples of the role that higher education can—and does—play in building stronger communities," notes Campus Compact President Maureen Curley.
Newman Civic Fellow awards are made in memory of Dr. Frank Newman, a founder of Campus Compact, who dedicated his life to creating systemic change through education reform. At the core of Dr. Newman's leadership was a belief in the power of individuals to make a difference and in the power of connection with others. Frank Newman had a tremendous impact on American education and its role in the development of citizens who want to make a difference. This class of Newman Civic Fellows embodies this spirit and dedication.
The Newman Civic Fellows Awards are made possible through the generous support of the KPMG Foundation.
About Campus Compact
Campus Compact is a national coalition of almost 1,200 college and university presidents who are committed to fulfilling the public purposes of higher education. As the only national higher education association dedicated solely to campus-based civic engagement, Campus Compact promotes public and community service that develops students' citizenship skills, helps forge effective community/campus partnerships, and provides resources and training for faculty seeking to integrate civic and community-based learning into the curriculum. Campus Compact's membership includes public, private, two- and four-year institutions across the spectrum of higher education. For more information, visit www.compact.org.