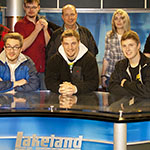 The Studio Productions class of Videography Production at
Central Lakes College on Tuesday, Feb. 12 toured facilities in Bemidji, where
Lakeland Public Television (LPTV) operates its non-profit broadcasting business.
The CLC students are in their second year of the Associate degree career
education program and are learning how to produce newscasts using a set on the
Staples campus. Students who observed the making of a LPTV newscast were Matthew
Ayers, Staples; Nolan Bettermann and Tyler Mumm, Sartell; Mark Slupe, Brainerd; Brady Kangas, Bovey; Gerald Grosskreutz, Backus; Lucus
Waytashek, Pierz; Kayla Voss, Brainerd; Michael Denny,
Staples; and Brittany Stansbury, Brainerd. Instructor Mark Ambroz accompanied the students.