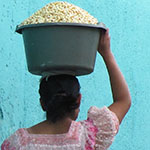 Jan Kurtz, a Spanish and Latin American Studies instructor at Central Lakes
College, will present the free, public Cultural Thursday program on Guatemala
March 7 at noon in Chalberg Theatre on the Brainerd campus. In February 2012, Kurtz spent the month in San Pedro Las Huertas,
Guatemala. This small town just outside
of Antigua is the site for Rising Villages, a project founded and run by Little
Falls residents Dave and Bina Huebsch. It is a volunteer operation which has
supported the people of Guatemala with educational, electrical, water, medical
and community building endeavors over a 40-year period.
Kurtz will present information on the village and her time working at the
Alabare Elementary school. She worked with three teachers and 35 students in
the school. She wrote about the experience for the Winter Edition of Her Voice
magazine in the article titled "Teaching Under the Shadow of the Volcano."
"My time was spent doling out glue for their myriad cut-and-paste
projects, reading stories, organizing clothing distributions, art lessons,
filling notebooks with copy work, and giving talks on Spanish-speaking
countries," she wrote. When she described Cuba, an island nation, her young
audience need "island" explained.
In the hours at the end of the school day that started at 6 a.m., Kurtz
and the other volunteers visited students' families and local sites.
Kurtz said dwellings where the families live consist of one to three
rooms, with masonry block walls, dirt or cement floors, an open cook fire or
small gas stove, and clothing is washed in a scrub sink. One hundred-pound bags
of corn may share space with firewood against one wall. Corn tortillas are a
staple in the Guatemalan diet.
"The emphasis will be on travel and work options that go beyond the
tour groups and photo ops," she said, noting that one young female in a host
family worked an afternoon on the coffee plantation so that she could offer
cake to her guests.
"How do we, as the guests in
other countries, respond to our new surroundings?" Kurtz asked.
"As volunteers passing through, what do we do that is really
helpful? We are the guests. What do THEY
want from us, not what do WE want to do?"
Kurtz said there are many ways to travel and experience other
countries. Many from Brainerd have done multiple volunteer journeys into a
multitude of countries. "What do we bring back?
What do we leave there?" she asked.
Cultural Thursdays are 50-minute events held the
first Thursday of each month during the academic year at CLC, sponsored by the
Resource Center for Cultures and Languages of America (RCCLA). Kurtz is the
coordinator and may be reached for information at (218) 855-8183.