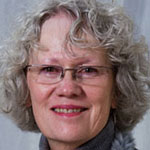 Central Lakes
College and the College of St. Scholastica will co-host a free,
public program about nursing education for current and prospective nurses from
5:30 to 7 p.m., Monday, Feb. 11. "Pathways to Nursing Careers," a
discussion about the future of nursing profession and how education can open
pathways to new careers in the nursing field, will be held in Room E354 at the
Brainerd campus of CLC, 501 W. College Drive. Featured speaker is Marty Witrak (shown),
dean of the School of Nursing at CSS, presenting the implications for current
and future nurses from the 2010 Institute of Medicine report "The Future of
Nursing: Leading Change, Advancing Health," which prompted widespread change
for the healthcare industry. A panel of five
professionals will be included. Scheduled panelists are Connie Frisch, CLC dean of nursing; Pat DeLong, chief nursing officer for
Essentia Health; Laurie Bach, vice
president of hospital services at Lakewood Health System; Elena McNutt, interim nursing director
at Cuyuna Regional Medical Center; and Susan
Hyndman, program director with the RN to BS online nursing track at CSS. Those attending are asked to RSVP at
go.css.edu/NursingPathways or
by calling (218) 625-4816 or (877) 287-8752. Refreshments will be provided.