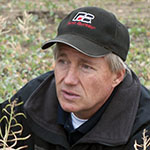 Central Lakes College is partnering with Mid Central Federal Savings Bank, and Prairie Lakes Co-Op to sponsor the Ag Outlook and Vision Day from 9:30 a.m. to 3:15 p.m. on Jan. 15 at Bruno's Hub Supper Club, Burtrum. The program includes a 10:10 a.m. presentation by Bob Rick, CLC Farm Business Management instructor, on "What is FINBIN? How Can It Help You Manage Your Farm?" Bob Schafer (shown), director of the CLC Ag and Energy Center, is on at 2:45 p.m. for "Farm Fuels Update." Other program topics: Tax Law Changes, Trends in Agronomy, Robotic Milking, and Legal Issues in Farming. Lunch is included. Information:
jpalmer@midcentralbank.com
or 218-639-7615 or 218-640-0193.