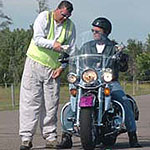 Central Lakes College Customized Training has received recognition from the
state Department of Public Safety for 10 years of "outstanding service to the
Minnesota Motorcycle Safety Center and Minnesota's motorcycling community." Bill Shaffer,
administrator of the state Motorcycle Safety Program, said that Customized
Training at CLC has "served motorcyclists in your region of the state well" and
presented the college program with a recognition award.
Kori Busho, rider training site coordinator at
CLC, said CLC offers about 25 Basic Rider courses per year, so across a decade
that amounts to 250 classes with 12 persons in each class for a total of about
3,000 trained through the Customized Training program.
The Basic Rider course covers 14.5 hours with 4.5
in a classroom setting and 10 hours on the "range" practicing maneuvers. Those
passing both written and range training receive their motorcycle rider
endorsement as legal operators.
The Basic Rider 2 course offered each year allows
experienced riders to ensure they are retaining safe driving habits. In
addition, Introduction to Motorcycle is offered to those with no experience.
Customized training through the college in
Brainerd and Staples covers a lot of territory beyond motorcycle training and specific
business-related training.
Busho noted that CLC also offers other training,
such as pre-license courses "so people can get their real estate license,
boilers license, and food manager certification."
She said there are also lots of online personal courses
available from Customized Training. To view them, go to http://clcmn.augusoft.net/
to view the variety.