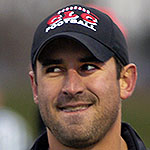 The Central Lakes College Raider football team captrued the Minnesota College Athletic Conference championship Sunday at St. Cloud State's Husky Stadium by defeating Rochester Community & Technical College, 33-23. It is the second title in four years for CLC, which improved to 10-1 on the year with a second 2012 triumph over the Yellowjackets (31-23 in September). The defining moment: A 75-yard kickoff return by Anthony Shelman that put the Raiders back in front, 26-23, following a fumble that produced RCTC's 23-19 lead in the third quarter. The MCAC top-seeded and nationally 12th-ranked Raiders then put the game away in the fourth quarter when QB Andrew Johnson hoofed it 3 yards and Andrew Leonhardt kicked the PAT for a 33-23 lead with 5:51 to go. Johnson threw three TD passes, completing 9 of 22 attempts for 167 yards, and he added 64 rushing for 231 yards of offense. Beau Bellmore rushed 30 times for 126 yards to lead the attack behind some outstanding blocks. TD receptions were by Bellmore, Brandon Kiel, and Michael Sparish. The Raiders picked off six passes — Matt Mogere had 3, Jared Hoemberg, Calvin Belfrey, and Jordan Bialke each had 1, according to CLC defensive stats. Bialke was in on 12 tackles. Erik Chouinard had a pair of QB sacks. CLC outgained the MCAC's previously top-producing offense, 355-306.
Images:
http://www.flickr.com/photos/58518185@N04/
Congratulations to Coach Greg Medeck, the coaching staff and players for a
spectacular football win yesterday. Great game and great turn-out of fans to cheer the
team on to victory. This year's players are to be commended for their hard work
on and off the field, for the way they work together, and for being good role
models. A great finish to a super season!
Congratulations to Volleyball Coach Jane Peterson for being chosen for induction
into the NJCAA Hall of Fame. Well deserved! We are proud of Jane's great
accomplishment. Congratulations to the women's volleyball team on a season that
saw them climb to 4th place in the national polls.
Thanks to all the coaches and assistant coaches for your great work
during the fall season. The Raiders are recognized across the state and beyond
because of the skill of our coaching staff and the student athletes that they
are brining to CLC.
— Dr. Larry A. Lundblad, President