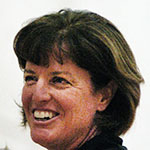 Jane Peterson,
Central Lakes College head women's volleyball coach, on Thursday, Nov. 8 will
be inducted into the Hall of Fame of the NJCAA Volleyball Coaches Association. She holds the distinction as having
coached the most wins among active coaches in the National Junior College
Athletic Association. Peterson, who this season surpassed
500 wins, will accept the honor at the national tournament banquet at the
Kahler Grand Hotel in Rochester. The Division III championship event is held in
Rochester, where three Raider teams coached by Peterson have earned national titles
and made nine appearances as the regional champion. Peterson's
volleyball coaching record at CLC is 507-226 through 22 seasons. She reached
500 wins on Oct. 3, a milestone equally as significant as the 2007 award from
the American Volleyball Coaches Association: Coach of the Year.
Her resume' includes
all-conference honors in high school and college, along with Most Valuable
Player recognition from the East Coast Conference in 1985 to cap a four-year, Division
I collegiate career that began with a volleyball scholarship. In 2005 she was
inducted in the College of William and Mary Athletic Hall of Fame.
She has been NJCAA Division III
Coach of the Year three times, Conference Coach of the Year four times, and
Region Coach of the Year nine times.
"It all makes me feel old," said the
forward-looking coach who has coached All-Americans 19 times and led six
Minnesota College Athletic Conference championship teams. "It seems like those
are things that old coaches achieve.
"I am not very good at history, but I remember national championships
as big wins and a couple state championships that were big wins, or when we
played really good teams and had to work hard against them to win, but I can't
remember my first win."
Peterson feels like she is at the
peak of her curiosity for her craft. The teaching and learning of skills and
strategies, the psychology of sport, the way a brain learns and practices
movement, group dynamics and communication skills – all these things are things
she is still curious about and anxious to learn and teach more about.
"I feel strange about going to
Rochester without my team this year," she admitted. "We had such a great season
of improvement and for whatever reason didn't play like we should have (in
losing the regional championship match to Northland). The 2012 team had climbed
to No. 4 in the national rankings after winning the MCAC Northern Division
regular-season title. The team finished with 22 wins, 7 losses.
Every year she still looks forward
to fall and the beginning of a new volleyball season. Every day she still looks
forward to going to practice – to try to create a "great" moment for someone.
Her love for the game began as a high
school sophomore in La Jolla, Calif., when athletic competition came naturally
to her. By age 12 she had watched enough games to know how to make an
unassisted triple play at shortstop in "booby sox softball."
The minute she went to her first
volleyball practice she knew that she loved this game – this game that has been
an integral part of her life since then. She said the game allowed to her feel
"great" about herself and others.
That great feeling, that incredible high, is what she continues to
strive for – daily. Her first "great" moment was when the coach told her she
should call her mom to come pick her up later because she wanted her to stay
and practice with the varsity. Her second "great" moment in the game was when
she earned the nickname "Dr. Dink" – when as a sophomore she was a little
unsure of pounding the ball and instead just "dinked" it everywhere in her
first playoff game.
There were many "great" moments since then, but most of her memories of
the game are about the relationships that were built with teammates and coaches
at La Jolla High and the William and Mary (Williamsburg, Va.) and players she
coached at Wayland Academy (Beaver Dam, Wis.), St. Cloud State University, and Central
Lakes College.
Memories of all those people center on the fun that was had on and off
the court. To this day Peterson loves a good road trip. "Nothing better than a
long bus ride and some good laughs," she said.