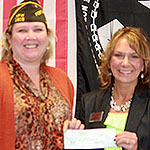 Garrison VFW Post
1816 has donated $10,000 to the Veterans Resource Center (VRC) at Central Lakes
College, Brainerd and Staples. Kathy Marshik, VRC
coordinator, said that members of the VFW have done even more than donate
funds. "Karen Miller (left) of the VFW
has done amazing work for students from CLC," Marshik said. She said the secretary-treasurer
of the Garrison post arranged to help students with house payments and with
vehicle repair costs, "so they would make ends meet."
"It's an honor to be chosen
by so many community entities as a place they want to support because they are
impressed with what we do," said Marshik who said networking is critical to the
relationship-building. Accompanied by fellow Iraq War veteran, CLC nursing student
Ann Hoshal of Brainerd, Marshik spoke to VFW members at a recent meeting to
explain the support provided by the VRC to the college student veterans and
families.
Marshik reports that the St. Cloud
VA, Brainerd VA Medical Center, Family Assistance Center, Employer Services for
Guard and Reserves and Hire to Hero program spent time at the college working
with students. "The events were a huge success," she said, "reaching out to
students and community veterans to offer guidance and services to ensure all
their needs were met.
"The more services we can bring to our students, the easier it is for
them to focus on their educational efforts. With busy schedules, working,
family and so forth it's difficult to take time to reach out for help and
resources."
A goal of the CLC Veterans Resource Center is to bring the services to
the college to ensure students don't give up because of stress, anxiety or
financial issues.
Later this year, CLC will be incorporating programs to help graduating
students find employment, Marshik said.
"Attending CLC is not just about getting a diploma," she said. "It's
about finding a future. It is part of the college and veteran center's core
values to ensure students are not only taken care of when they attend school,
but after they leave as well.
Alumni visit the VRC after graduation. "They miss the people,
atmosphere, guidance and seek advice," Marshik said. "This is an excellent
reflection on how well we work with our veterans and other students at CLC.
Students also come back to say 'thank you' for enabling them to find a life
that is prosperous and meaningful."
CLC faculty and staff treat students like people, she added, demonstrating
they care about their well-being, no matter how busy they are. "They will take
time for a student."
She said there are numerous examples of going the "extra mile for
others" that are building a network of partners for the veteran center at CLC,
a network that includes the Garrison VFW.