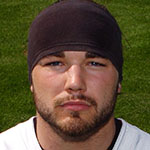 The 15th-ranked Central Lakes College football team won its first-round playoff game, 21-0, Saturday at Findorff Athletic Complex by dominating Minnesota West. The Raiders advance to the semifinals of the Minnesota College Athletic Conference championship run with an 8-1 record. QB Andrew Johnson threw 2 touchdown passes to Anthony Shelman (15 and 43 yards) and Matt Mogere scored the other TD on a 45-yard pick six from his defensive backfield domain.
Andrew Leonhardt converted all three of his PAT kicks. The Raiders led 14-0 at the half. Jared Hoemberg had two interceptions and Calvin Belfrey snared another as the swarming Raider defense stifled the Bluejays, holding them to -29 yards rushing.
CLC outgained the vsitors, 284-167. Beau Bellmore carried the mail 24 times for 89 yards. Johnson completed 11 of 27 pass attempts for 18 yards., inding seven different receivers.
Blake Petrick hauled in three passes for 64 yards. Shelman's two catches for 58 yards both netted scores.
Erik Chouinard and Pete Stenger each had three sacks (CLC totaled 14). Austin Manzey (shown) with seven and Hoemberg with six led the defense, which spread the glory around (four of their teammates each had five tackles).
Other state quarterfinal playoff scores: Rochester 52, Ridgewater 7; Fond du Lac 60, Vermilion 0; Northland 22, Itasca 7. Next, Sat. Oct. 27, semifinals: Northland (6-3) at CLC, 1:30 p.m.; Rochester at Fond du Lac. Winners in state championship Sunday, Nov. 4, St. Cloud State University.