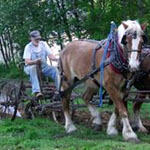 Veterans are invited
to a Farm Field Day Saturday, Oct. 20 at Central Lakes College, Staples. The event includes presentations,
discussions, a trade show of farming resources, catered lunch, tours, and a
draft horse demonstration. Partners in planning the
event include farmer veterans Mike Sams (a heavy equipment instructor at CLC)
and Seth Connell, the CLC Veterans Resource Center, CLC Ag and Energy Center, the
Farm Beginnings Program of the Land Stewardship Project, and the USDA Natural Resources
Conservation Service. Coffee and doughnuts will
begin the event at 8:30 a.m., with an address by Sams and Connell at 9 a.m., a Land
Stewardship Project program on "Assessing Your Farm Dreams" at 9:30 a.m., a
farm resource trade show at 11:30 a.m., with lunch, tours of the Sams farm and
draft horse demonstration at 1 p.m., and evaluation wrap-up at 4 p.m.