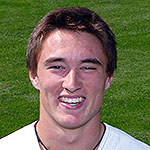 The Central Lakes College football team clinched the Minnesota College Athletic Conference outright Southern Division championship Saturday at Willmar, defeating Ridgewater, 27-7. "It was one of our better, more complete games," said Coach Greg Medeck. "We really played well on offense and defense." The win secured home field advantage throughout the playoffs, which begin this Saturday, Oct. 20 vs. Minnesota West at 1 p.m. at CLC's Findorff Athletic Complex in Brainerd. Beau Bellmore rushed for 62 yards and one TD, and Andrew Johnson passed to Matthew Scott (49 yds), Paul Lake (28 yds), and Anthony Shelman (15 yds) for TDs. Johnson hit Scott for a two-point conversion, and Andrew Leonhardt kicked another.
Coach Medeck credited the offensive line for stellar effort. "It was one of the best performances of the year by our offensive line, which has been a consistent unit all season." CLC had five interceptions. Marion Lambright (shown) had 2, plus a fumble recovery.
Jared Hoemberg also had two pass thefts. Calvin Belfrey intercepted one. "We held a team that was averaging over 200 yards/game rushing to 39 yards," Medeck noted. The home team avoided a shutout by scoring on a 9-yard pass as the clock ran out.
Defensive leaders included Celestino White and Brandon Tulenchik with two sacks apiece, Jordan Bialke with 15 tackles (2 solo and 13 assist), Nathaniel Rutz with 9, Tulenchik with 10, and Cedric Davis seven. Eleven different Raiders caught passes as Johnson completed 18 of 30 for 226 yards.
CLC totaled 344 yards of offense and had possession of the ball for 75 minutes of game clock to Ridgewater's 15. CLC averaged 4.8 yards per play.
"I couldn't be more proud of this group and the resiliency they have continued to show over the course of the season," the coach said. "I am very excited for the post-season to begin next week at home."
CLC was ranked 17th in the nation last week. Another Southern Division team, Rochester, was 18th. CLC defeated Rochester, 31-21, during the regular season.