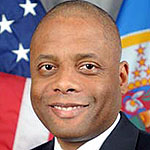 Kevin Lindsey, Minnesota Commssioner of Human Rights, will speak at Central Lakes College in Brainerd on Thursday, Oct. 25. In Chalberg Theatre at 10 a.m. he will discuss "hot topics facing Minnesota's human rights — economics, voting, and amending the state constitution (Voter ID and Marriage amendments)."
He will examine Minnesota's changing demographics and implications for jobs, education, and our state's economic future.
At 11 a.m. he will convene a community forum and dialogue regarding the two proposed amendments and the idea that voting is a human rights issue. Before his appointment in February 2011, Commissioner Lindsey was a civil litigation attorney in the Office of the Ramsey County Attorney. He has 20 years of experience in resolving complex legal and public policy questions.
As Commissioner, Lindsey is responsible for a department whose mission is to make Minnesota discrimination free. The Department of Human Rights enforces the Minnesota Human Rights Act, which prohibits discrimination based on race, gender, religion, color, creed, nationality, age, disability, sexual orientation and other characteristics protected under the Act. Discrimination is prohibited in employment, housing, public accommodations, public services, business, credit and other areas.
The Department of Human Rights also ensures that businesses seeking state contracts are in compliance with equal opportunity requirements, and strives to eliminate discrimination by educating Minnesotans about their rights and responsibilities under the Act.
In his first six months as Commissioner, Lindsey introduced new department strategies to investigate charges of discrimination more quickly, and announced a new policy under which the department will investigate all charges that are filed. During Lindsey's first six months, the department was able to reduce the average time it takes to resolve a case, even as charges increased 20 percent.
Commissioner Lindsey is also committed to calling upon government agencies to collaborate more closely to address racial and economic disparities. Governor Dayton has asked the department to play a prominent role in improving diversity in hiring and diverse contracting opportunities among state agencies. As part of that process, the department is conducting an evaluation of diversity across agencies and assessing affirmative action efforts and best practices.
The department is also collaborating with other state agencies and other partners to address racial disparities in employment, income, education, health care, housing, criminal justice, entrepreneurship, public accommodation and public goods, as well as on other issues such as bullying in schools.
Lindsey received his JD and BA from the University of Iowa, where as a law student he served as Editor-in-Chief of the Iowa Law Review. He worked for the firm of Oppenheimer Wolff & Donnelly where he practiced civil litigation, primarily representing clients in employment, product liability, contract and health law. He also brings private sector experience as Chief Operating Officer and General Counsel of Axis, Inc., where he was responsible for managing human resources operations, ensuring legal and administrative compliance, and risk management. Prior to joining Ramsey County Mr. Lindsey worked for the firm of Halleland, Lewis, Nilan & Johnson in the employment and health law groups.
For information contact Mary Sam, CLC Director of Diversity, Equity and Tribal Relations, at (218) 855-8159.