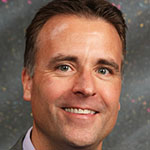 The U.S. Department
of Labor has awarded Central Lakes College and three institutional
partners a $13.1 million grant to expand educational opportunity in advanced
manufacturing. CLC, a community and technical college in Brainerd and Staples, is the
consortium leader. The three-year grant award,
announced Wednesday by Sens. Amy Klobuchar and Al Franken, will
enable CLC, St. Cloud Technical and Community College (SCTCC), Pine Technical
College (PTC), and the 360 Degree Center of Excellence at Bemidji State
University to train workers for high-wage, high-skill jobs. "We are excited about the opportunity to better serve the manufacturing
sector of the state's economy with this grant," said Dr. Larry Lundblad,
president of CLC. "The most economically distressed rural regions will benefit
the most." The $13,100,920 awarded to the consortium will be divided as follows: CLC — $3,748,561; SCTCC —
$3,953,961; PTC — $3,209,312; 360 Center — $2,189,086. Jeff Wig (shown), CLC dean of career and technical programs and Staples campus, worked for months with many partners in pursuit of the grant.
Consortium members have been working to expand the educated labor pool
in direct response to local manufacturing employer needs, with a recent
emphasis evolving in the advanced manufacturing arena. The emphasis is on
metals manufacturing, plastics and composites, automation technology, and rapid
prototyping.
"Manufacturers are telling our colleges that they have many high-paying
jobs available, but that few applicants have the advanced manufacturing
training needed to be successful in these jobs," said Jeff . "This grant should go a long way toward
closing this skills gap."
The Regional Advanced Manufacturing Retraining (RAMR) program created
by the grant aims to counter the loss of jobs that have often moved overseas.
More than 8,700 manufacturing workers in Minnesota have either lost their jobs
due to foreign trade or are under constant danger of job loss since January 1,
2007.
Officials predict RAMR will result in a pool of more than 3,900
high-skilled technicians ready to work throughout Minnesota and two counties in
Wisconsin.
Program highlights:
•
Re-engineering
the relationship between introductory manufacturing courses, Adult Basic
Education (ABE) and college developmental education to improve student
retention and success.
•
Providing
intensive student services to assist students to overcome their barriers to
success.
•
Expanding
access to introductory courses by building on and enhancing existing online
courses in basic manufacturing skills pioneered by the 360° Center.
•
Adding
important new advanced manufacturing disciplines in plastics technology,
automation and rapid prototyping.
Jeff said the program aims to build a stronger "on" ramp for people who
want advanced manufacturing jobs but may need help in reading, math or basic
computer skills before they can be successful.
"The grant will allow us to fund targeted Adult Basic Education services
in these areas, as well as outreach coordinators and case managers who can help
students overcome barriers that might have kept them from succeeding," he said.
"One huge barrier our colleges face when starting a new program in
manufacturing is the high cost of new equipment," Jeff said. "The grant includes
approximately $3.1 million in cutting-edge manufacturing equipment for these
areas."
SCTCC will create eight faculty and
staff positions (two instructors) and obtain more than $850,000 in equipment
for campus and nearly $500,000 in mediated telepresence equipment placed in
partner companies.
"We will be adding a program of
instruction in Plastics Technology, expanding our programming in
Prototypye/Reverse Engineering, and growing more opportunities in Automation
and Robotics," said Bruce Peterson, dean of trades and industry at SCTCC. "This
grant affords our college the opportunity to purchase some very high end
equipment to modernize the technology our students will be learning to operate.
"With modern mediated teleprescence equipment, SCTCC will be able to
send training to remote sites in several area communities over electronic
systems, bringing the training opportunities right into the manufacturing plant,"
Peterson said. "This method also promotes the concept of many companies coming
together for training with small groups at multiple sites sharing in the
opportunities."
Dr. Robert Musgrove, president of PTC, said the grant is well-timed for
the region. "In East Central Minnesota, manufacturers in precision metals are
rapidly adopting more and more automation into their processes," he said. "The
demand for trained technicians in this region is increasing exponentially.
"Meanwhile, the plastics industry in the area has been experiencing
substantial growth, both in existing companies and in terms of new startups.
"The programs that we at Pine Tech will create with this grant funding
will meet some critical workforce needs in these industries," Musgrove said. "The
Department of Labor funding comes at a critical juncture between industry
demand, the need for job creation and the yawning skills gap."
"The 360º Manufacturing and Applied Engineering Center of Excellence is
very excited about this grant," said Jeremy Leffelman, assistant director of
the BSU-based Center. "These funds will allow our Center and our partner
colleges to continue the important work of bridging the skills gap in the
manufacturing industry and ensuring that the U.S. remains competitive in the
global market."
In addition to the college partners in the grant, 18 regional
manufacturing businesses pledged their support in the form of cash, equipment
and other support valued at over $2 million.
And, over 20 other government agencies, school districts and the Mille
Lacs Band of Ojibwe also pledged their support.
"This is great news for the whole Minnesota manufacturing industry,"
said Tom Haglin, CEO of LINDAR, Inc. and Lakeland Mold, Inc., Brainerd. "One of
the largest issues we face is having enough people with the right training to
fill high-skill jobs. The opportunities this grant provides will help us get
the right people so we can continue the growth of our state's manufacturing
sector."
"This is a great example of how business, education and government can
come together to help build our economy – no one of us on our own could have
made this happen," said CLC's Wig.
The grant is part of the Trade Adjustment Assistance Community College
and Career Training initiative, which promotes skills development and
employment opportunities in fields such as advanced manufacturing,
transportation and health care, as well as science, technology, engineering and
math careers through partnerships between training providers and local
employers. The U.S. Department of Labor is implementing and administering the
program in coordination with the U.S. Department of Education.
The plan to educate Trade Adjustment Assistance-impacted workers,
veterans and other dislocated workers is built around a six-step process, with
multiple exit-to-employment points throughout.
The grant emphasizes evidence-based program design. CLC and consortium
partners are required to collect rigorous student outcome data annually and
conduct final evaluations at the end of the grant period to build knowledge
about which strategies are most effective in placing graduates in jobs.