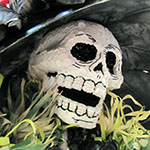 Cultural Thursday at Central Lakes College, Brainerd, will feature a
closer look at Mexico's traditional "Day of the Dead" on Oct. 4. Jan Kurtz, who has traveled to Mexico numerous times, will illustrate the
observance that occurs annually Nov. 1 and 2 but is prepared for – as our
Halloween – a month ahead of time. The free, public program is from noon to 12:50 p.m. in the Chalberg
Theatre.
Kurtz said she specifically arranged part of her sabbatical from
Spanish teaching at CLC to afford the opportunity to observe Day of the Dead.
She participated in rituals in Tepotzlan and Octopec, small villages with
indigenous roots.
She and traveling companion Jamy Olson, a former CLC student, chose to
arrive before official programs began, visiting markets, cemeteries and
downtown displays and parades in advance of Nov. 1 and 2 events. They lived
with families and attended language classes at the Spanish Language Institute in
Cuernavaca, Mexico.
They watched as traditional foods were prepared and noted how
individual families erected altars honoring their loved ones who had passed on.
Much of the symbolism associated with the observance contains a mixture of the
Catholic religion and Indian beliefs. "It creates an observance of life,
connected to those who came before us," she said.
Kurtz said she wants to create a new look for this time of year to be
more of a period of honoring and remembrance rather than "scary Halloween and
sugar distribution."
The focus on heritage and ancestry carries over to students in the Many
Faces of Mexico class that is part of Kurtz's course load at CLC. She has
assigned students the task of researching their family trees to be rewarded by
knowledge of previous generations and the culture in which they existed. "Where
are the roots in our culture?" she asks. "How do we honor the work, decisions,
and love that were the foundation for where we are today?"
Decorations, recipes, and sugar skulls will accompany Kurtz's showcase
of Mexican culture relating to respect for those who came before.
Information about participating as a presenter or otherwise supporting
the series is available from Kurtz, who coordinates the first Thursday of the
month series, Cultural Thursday, at CLC. She may be reached at 218-855-8183 or jkurtz@clcmn.edu