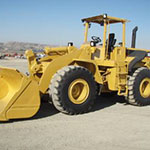 Thanks to the State
Legislature and business backers, two career education programs at Central
Lakes College (CLC) by the end of 2012 will be able to offer students training
equipment to prepare them for the latest industry practices and technologies. The financial support making it possible is
part of an infusion of more than $1.2 million driven by a state appropriation
and private funding. The colleges and
universities were required to procure matching contributions in non-state funds
to receive state funds. The Legislative Leveraged Equipment Fund from the Minnesota Legislature
and Gov. Mark Dayton plus matching funds from businesses will enable CLC to
obtain two major pieces of excavation equipment valued at $151,250. A loader
and an excavator will be purchased for use by students in two career education
programs at Staples: Heavy Equipment Operations and Maintenance and Diesel and
Heavy Equipment Technology.
CLC is one of 15
institutions in the Minnesota State Colleges and Universities (MnSCU) selected
from 63 applications seeking $3.7 million worth of equipment. A culling of
applications reduced the state allotment to $457,000.
The money was awarded to 12 colleges
and three universities for the purchase of 24 pieces of equipment with values
ranging from under $9,000 to over $365,000.
Fifty-three businesses, four vendors
and six foundations contributed $731,000 to match what lawmakers granted.
"CLC is blessed with strong industry support for many of its career and
technical programs," said Dr. Larry A. Lundblad, college president. "The
monetary match for equipment was made possible from the proceeds from the
annual golf tournament that is sponsored by Frattalone Companies and supported
by numerous industry partners.
"Over $240,000 has been raised for the program since the tournaments began
14 years ago. The program would have difficulty sustaining the program at
current levels without this support."
Frattalone Companies, Inc., St. Paul, and dozens of other businesses
contribute to benefit students in heavy equipment training. Alumnus Frank
Frattalone, company founder, is a 1969 graduate. He said: "Frattalone Companies
values the well-prepared graduates we get from CLC. The intent of the golf
tournament is to support the equipment and operating needs of the program and
its students. The purchase of this newer loader and excavator will definitely
fit that intent."
Instructor John Maleski said he is shopping for two late-model
Caterpillar products – a wheel loader and a hydraulic excavator.
Maleski said that while industry understands that having brand new
equipment is often cost-prohibitive for a college program, there is an
expectation that students at least do some of their work on relatively new
technology in order to be competitive once they graduate.
"By embedding this new equipment in our Introduction to Operations and
Excavation I, II and III courses all Heavy Equipment Operations and Maintenance
students should be able to use at least some of their time in these newer
pieces," Maleski said.
The two units are estimated to cost
about the same, $70,000 to $80,000. They are new enough that they will have
newer generation electrical controls and electronic and hydraulic shifting
systems that match current standards.
They are also new enough that they can be easily retrofitted with global
positioning systems (GPS) technology in the near future.
An estimated 140 to 150 students per
year will make use of the equipment.
"The new equipment will help us to
deliver the best training in high-demand fields such as machine technology,
engineering, automotive technology, healthcare, information technology and the
sciences." said MnSCU Chancellor Steven Rosenstone.
"This modest effort was extremely successful," Rosenstone said. "It is
a clear demonstration of both the need and strong support for co-funding the
purchase of equipment necessary to provide students with the training required
to meet Minnesota's workforce needs. This outcome is helping us to address one
issue that has been clearly expressed by business and community representatives
– that Minnesota employers need graduates with more experience that mirrors the
latest industry practices and technologies."