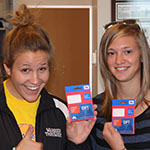 Rachel Bartosh (left), Brainerd, and Kelsey Saba, Baxter, each received a $50
Super America gas card for winning the Brainerd campus scavenger hunt during
Welcome Week at Central Lakes College. They had worked as a team to fulfill the
requirements, including pictures or video evidence of each task completion over
a five-day period. At Staples, Deb Hegg,
Crookston, earned the $50 gas card working independently. Taylor Finger, Baxter, was the lucky winner in a drawing for the day's grand prize, a Google Nexus 7 valued at $250. He qualified by attending orientation workshops during Welcome Week, registering at each one. Welcome Week was new at
CLC during the week of Aug. 27, an event that featured orientation workshops,
social and recreational activities, free lunches, concerts, a stand-up
comedian, and opportunities to learn about community and college resources.