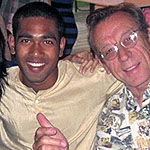 The 2012-13
Community Colleges for International Development (CCID) international students
attending Central Lakes College (CLC) in Brainerd for one year are eager to
broaden their cultural experience in the area. The eight are (from India) Khan
Zishan Anwar, 20, Chiranjeet Shah, 24, and Richard Andrews, 22; (from Pakistan)
Nasir Hussain, 28, Usman Naeem, 25, and Abdul Qadir, 29; and (from Indonesia)
Beatha Saskia Astamarindraputri, 24, and Elsa Sasmita, 27. "They are looking for people willing
to take them fishing, boating, sledding, tubing, attend religious activities,
or just visit in a Minnesota home for an evening," said Megan Olson Heppner,
CCID coordinator at CLC.
Images:
http://www.flickr.com/photos/58518185@N04/
The students are attending the community and technical college through
CCID, a program sponsored by the U.S. State Department. CLC was the first
college in Minnesota approved for participation three years ago.
The program gives under-served, non-elite young
adults from various countries an expense-paid year of education. The students
take 15 credit hours per semester at CLC and sign up for 60 hours of unpaid
internships and volunteer activities. A key component is leadership and
acquisition of knowledge essential to economic and democratic development for
their home nations.
Housed together near campus, the international students
are matched with local mentors for support. Mentors provide much-needed help
with transportation and learning about this area, but anyone who would like to
share time with the students is welcomed to take advantage of the opportunity
share and learn.
The students have already toured parts of the
region familiar to tourists and would enjoy participating in activities common
among those of us who live here, Heppner said.
"You don't have to be a mentor to get to know this
group of students," she said. "Just by donating one day or evening can make
their experience here a great one. And they're willing and able to share their
rich cultures and traditions."
More about the students, in their words:
Khan Zishan Anwar – I am from Aurangabad City,
India. My childhood was spent playing cricket, football, chess, and other
sports with my three brothers and friends. My dad is a businessman and mom is a
housewife. I like to garden, cook, and read. I am pursuing a degree in business
administration at Bamu University. Last year I joined Rotaract Techplorers, a
group of Rotary International. Our programs address healthcare needs, hunger,
poverty, illiteracy, and environment.
Richard Andrews – I was born into a Christian
family in New Delhi, India. I have two younger sisters. My father is a driver
and my mother is an accountant. I was not able to do much schooling but started
to do some volunteer work with a non-governmental organization, Hope Project
Foundation, where my mother works. When I go back to India, I plan to continue
my studies and look for a good job. Most people in India are Hindu, so when we
celebrate Dipawali all of India looks like glittering stars. I am eager to
celebrate Christmas in the U.S., to see a real Christmas tree, exchange gifts,
see Christmas lights, and praise the Lord.
Chiranjeet Shah – I was born in a small village of Malda Town, WB,
India. I have a younger brother and sister. My father is a security guard in a
private farm and mother is a housewife. I belong to a poor family and live in
the slums named by Sanjay Colony located at Okhla Industrial Area, New Delhi.
It is just a six feet by six feet room where we all live. School has always
been unaffordable. When I was in eighth grade I started a part-time newspaper
distribution job. I worked from 4 to 7 a.m. and was paid Rs400 monthly ($7) to
support my education. After my schooling was taken care of I was able to give
my family the rest to help out at home. I continued to work until I passed 12th
grade. At a cellular farm in New Delhi I worked as a customer care executive
and at other jobs. I was able to support my whole family. I want to start a
media agency.
Nasir Hussain – I am a graduate from Government College University
Lahore, Pakistan. I have been an active office bearer of Environmental
Protection Society and vibrant member of Political Science Society. I served in diversified positions in Government
of the Punjab, Pakistan and discharged my duties in the domain of administration
and operations. I worked a lot to alleviate poverty by introducing food stamp
scheme in my province. I am intrigued to learn family traditions, gender
relations, middle and upper class, nuclear family arrangements, food festivals,
national holidays, and particularly observance of religious events with regards
to Protestants and Catholics.
Abdul Qadir — I belong to the most
traditional and tribal part of Baluchistan, Pakistan. We are 11 family members
including parents. My family's occupation is farming. I received a bachelor's
degree in 2005. My professional career started with teaching in a local school
that was run by an NGO named SEED. That gave me an opportunity to experience
more about the teaching system and working mechanism of government and
privately owned schools. I served as Administration & Finance officer in
the same NGO for two years until March 2009 when I joined China Mobile's
Pakistan Operations as a finance officer. I have dreamed of studying in the
U.S., to know a culture prominent and respectable, embraced by people all over
the world without discrimination to caste, creed, religion, or nationality.
Usman Naeem – I started my career in
2007 and worked with the collaboration of various well known organizations
which are Dow Medical University Pakistan, HSBC Bank Limited, Rotary
International, International Financial Corporation (IFC), and Department for
International Development (DFID) Pakistan. While here I would like to
experience the interaction with U.S. students and professors. I am excited to
be in the "melting pot," and to meet people with different experiences that see
the world from a different perspective.
Beatha Saskia Astamarindraputri — I
come from Bali, Indonesia, where I have lived for two years. I am excited to
experience the freedom of the U.S. In Indonesia we only know the freedom of
America from what we read in books, newspapers, magazines, Internet, and/or
watch on TV. I hope to see the ball drop on New Year's in Time Square. I also
hope to share the kindness of the
Indonesian people and the uniqueness of our culture.
Elsa Sasmita — Indonesia is one of
the countries in the world that has a variety of cultures. Indonesia is made of
thousands of island and each island has a unique and rich culture. However, there is one culture
that unites Indonesia and that is tolerance. Tolerance makes us able to live
side by side peacefully among all the differences. Here in the U.S. I am
excited to experience the culture of independence – the idea that most men and
women leave their homes at 18 and live on their own and/or travel outside the
U.S. This is something I would like to witness, because I am 27 and still live
with my parents. With this program I hope to be more independent in life,
school, and work.
For information, contact Megan Olson
Heppner, CCID project coordinator, molson@clcmn.edu or (218)-855-8045.