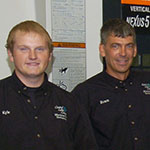 Due to a rise in job openings, local partners are working together to
increase awareness and develop skills for entry into careers in the
manufacturing employment sector. A FastTRAC Manufacturing grant in the amount of
$100,000 is supporting the plan to build career pathways for unemployed/underemployed
people. Partners are Rural Minnesota CEP, Central Lakes College, ISD 181 Brainerd
Adult Basic Education, Clow Stamping and Manufacturing, Lexington
Manufacturing, Pequot Tool, and Lakeland Mold. Graduates of one- and two-year diploma programs
in machine tool technology, welding and fabrication, and robotics are finding
employment opportunities in the manufacturing sector. The latest effort to
supply trained employees to industry includes refresher and basic education
that prepares students for college-level coursework.
According to the Minnesota Department of Employment and Economic
Development (DEED), the Occupations in Demand for Economic Development Region 5
(EDR 5) forecasts that over the next two years, there will be a need for over
346 new manufacturing related jobs that pay $26,349 – $39,655 annually. Even more important, however, will be the
need to replace hundreds of skilled manufacturing employees who are now
starting to retire.
Jeff Wig, dean of career and technical programs at
Central Lakes College, said: "Area companies are calling us constantly looking
for more skilled manufacturing graduates – particularly welders and machinists.
Students finishing just one year of training at CLC have no problem getting
employed in our area, and we don't see that changing anytime soon. That's why we are so excited about the
FastTRAC program."
Minnesota Adult Career Pathway in Manufacturing is
a program that aims to engage lower skilled adults in a career pathway which
can lead to an increase the average annual wage by more than $7,600 for each
student completing it.
Craig Nathan, Area Manager for Rural Minnesota
Concentrated Employment Program, said: "Area Manufacturers have indicated a
skills mismatch in the available workforce leading to position vacancies. This
program will help alleviate that issue while providing a valuable benefit for
adults looking to increase their employability."
The program intends to support the employment of
up to 50 individuals.
Students will be provided the foundational education in Basic Computing
and Writing/Math Skills, then continue into courses: Computer Fundamentals and
Introduction to Manufacturing/Math Skills. The courses will include ABE
Integrated Instruction.
Credits apply toward a Central Lakes College
diploma in Machine Tool Technology, Welding and Fabrication, and Robotics.
The classes, which are free, start as early as
Sept. 20 and will be offered in the fall of 2012 and 2013. Classes run two days per week for up to three
hours per day.
A significant emphasis of the FastTRAC Manufacturing program is to help
the students become familiar with real-world manufacturing operations and build
their network for future employment.
During the entire program participants
will have the opportunity to tour manufacturing plants and interact with
speakers and mentors from local manufacturing plants.
One local employer who welcomes the program is
Jeremiah Miller, owner of JDM Machining, Staples. In the midst of an expansion
project that will triple his production facility, Miller is optimistic that
more jobs in the industry are on the horizon.
Miller, a 1999 graduate of the Machine Trades
program at CLC, has built a thriving plastic injection molding enterprise since
2000. Several employees are CLC graduates. Kyle Moench of Wadena is June graduate from
the CLC program learning more specific aspects of CNC machining at the job shop
north of Staples. "I really enjoy the work," he said.
Other CLC graduates working at JDM are Aaron Denny
of Nimrod, and Eric Kostreba and Devon Redemske of Staples.
"We've continued to grow," said Miller, whose new
building of 6,400 square feet is twice the size of the existing structure. "I
think our industry and this area have a good future for graduates who know
computer-numeric controls and programming for the variety of molds we make."
The firm recently ordered its third Mazak 510 vertical
machining center to join a shop bursting at the seams with equipment valued at
more than $1 million.
JDM, which builds the tooling for plastic
injection molding and also does a lot of prototyping, is part of a subcontractor
network that makes parts for John Deere, Arctic Cat, Caterpillar, and other
machinery manufacturers.
Funding for the FastTRAC Manufacturing grant was
provided through the Minnesota Department of Employment and Economic
Development (DEED).
For information contact the WorkForce Center
(218-828-2450), Central Lakes College (218-855-8000), or ISD 181 Adult Basic Education
(218-454-5417).