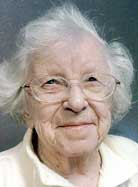 The Central Lakes College Foundation, Brainerd and Staples, has announced the
inception of two endowments – one bequest for a student engineering-science scholarship
and one to support the activities of the Gordon Rosenmeier Center for State and
Local Government at CLC.
Roberta Rott of Maple Plain has provided $10,000 for a scholarship in the fall of 2013 for a second-year CLC student
who has attained a 2.75 grade-point average and is pursuing studies in science
or seeking an engineering Associate in Science degree. Preference will be given
to a student participating in the TRiO Student Support Services
program. The late Margaret Hastings (shown) of Little Falls provided a $55,500 bequest for
the Rosenmeier Center due to her strong interest in the Center's mission
advancing citizen participation in government. She was a longtime companion of
the late Senator Rosenmeier, who established the Center in 1988 three months
prior to his death. Hastings was a native of Canada who was raised in a foster home and
eventually became an elementary teacher. She taught for 25 years at Whittier
School in Brainerd. In the last years of Rosenmeier's life, she was his
caregiver in Little Falls. She died in March of
2011.