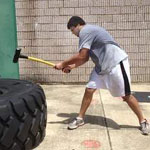 A Tallahassee, Fla. newspaper reports that ex-Central Lakes College football star Frank Mays is vying for a starting spot on the Florida A & M University team this season. Here is the report by St. Clair Murraine of the Democrat, which pictured Frank working out in one of the pre-season drills:
Frank Mays was so
convinced that a high school janitor was onto something when he mentioned
football as an extra curricular that he practiced an entire season without
playing a single down. When he got his
opportunity to play in his senior year of high school, he simply showed out.
Mays recorded 96 tackles, enough to catch the eyes of coaches at Minnesota
Central Lakes College, although he was shunned by bigger programs. FAMU is the next
stop for Mays, a 6-foot-10, 285-pound defensive end. Coming to Tallahassee to
play at FAMU is much farther than he thought he'd go after his high school
janitor told him his size could get him somewhere in the game, Mays said. "I figured I'd give it a shot," Mays said Monday
during a break between strength and conditioning drills. "I really wasn't
looking for anything bigger than high school (but) I fell in love with the
game."
He actually
turned out to be above average during the two seasons he played for Central
Lakes, a Division III junior college program. Mays recorded 47 tackles and 8.5
sacks, earning honorable mention from National Junior College Athletic
Conference when it named its 2011 All-America team.
Mays will go into
pre-season camp at FAMU as the top man to replace Jerry Willis, who played his
last season of eligibility last year. His size makes him a perfect fit for
coach Joe Taylor's 3-4 defense, said nose guard Padric Scott.
"He carries his
frame well so he is not lightweight," said Scott, a product of Lincoln High
School. "He is able to hold his own in the trenches and he moves real well."
Size has always
been a a big part of the conversation whenever he mentions that he is a
football player. To hear concerns about how well he maneuvers at almost 7 feet
is normal too, he said.
"To that I say
right now I'm a small kid in a big kids body so I can do all the things that a
small kid can do," he said. "It's all about taking that extra step."
Coming from Minnesota
where football season is much colder than it is in Florida, Mays said he
can adapt without much trouble.
"I've had
practices in 10 degrees and I've had games in negative 10 degrees," said Mays,
still drenched from his workout in the afternoon heat.
"When it gets
down to November, we are shoveling snow off the ground. That's what I call
football (weather). But we get the heat (during the summer) when people get
sick and come off the field because they're not used to having to re-hydrate
themselves."