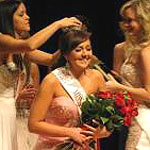 Bailey Wachholz, a Central Lakes College PSEO student from Nisswa, will be among 53 women ages 13-17 in Orlando, Fla. Aug. 14-18 competing for the title of Miss America's Outstanding Teen. It is the "little sister" to Miss America. Bailey is an honor student planning to pursue a career in broadcasting. She has raised over $20,000 for the Walk to End Alzheimer's while promoting her pageant platform: "Alzheimer's Through the Eyes of a Child." In the competition, Bailey will perform on piano. Judging includes personal interview, evening wear, lifestyle and fitness in active wear, and on-stage question. Last January she was crowned Miss Brainerd Lakes Outstanding Teen 2012.
Wachholz dominated the night winning three other awards and coming in a
tie for a fourth.At age 15 she was crowned Miss North Metro Outstanding Teen 2010.