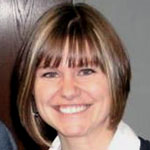 Angela Brown has completed her service to the college community as an Americorps VISTA member. She had worked with the Initiative Foundation's central Minnesota VISTA project out of CLC since last August. She completed her service with the CLC Foundation and the Brainerd Lakes Area Women's Fund. Angela built capacity for the Presenting Yourself
program, a five-part workshop series offered to 20 college women each year to
empower women with skills for success in their careers and education, by
creating orientation and volunteer manuals and materials for the program.
Angela also advocated
for and helped secure professional opportunities for the graduates of the
program – including a paid, marketing video, opportunity for Toy Sullivan
McRae, three internship grants from the Women's Fund to Toy Sullivan McRae,
Lucia Staples, and Megan O'Neill, and finally, the hiring of past participant Julie
Jo Larson to take over as program coordinator for the fall and spring
Presenting Yourself series.
With CLC, Angela
collaborated with local businesses, the Workforce Center, Bridges Career
Academies, and the administration and faculty on campus to develop tools for
faculty and employers to create new internship and job shadow opportunities –
including her instrumental role in the college's purchase of NACElink, a
software program to serve as a portal for employers to post internships and job
opportunities. Angela also served a
strong role in piloting the National Career Readiness Certificate (NCRC) with
three programs on campus, and has written grants to support internships and increase
student placement in careers.
Angela will continue
to leave her imprint on the world next year as a VISTA Leader with the City of
St. Paul Mayor's Office, providing support to the 2012-2013 AmeriCorps VISTA members
working on the mayor's education priorities in St. Paul.
The Women's Fund and Central Lakes College would
like to thank Angela for her commendable service, and wish her the best of luck as
a VISTA Leader next year in the Twin Cities.
For more than 40
years, VISTA – often called the "domestic Peace Corps" – has been helping bring
communities and individuals out of poverty.
Today, nearly 7,000 AmeriCorps VISTA members serve each year in
nonprofit organizations and public agencies across the country.
To enable Angela to serve
full-time for a year, the Corporation for National and Community Service provides
AmeriCorps members with a modest living allowance along with health insurance,
training and relocation expenses. Upon
completion of her service, Angela can choose between either a $1,500 cash stipend
or an education award of $5,550 to help pay for further schooling, vocational
training or qualified student loans.
In Central Minnesota,
20 VISTA projects, coordinated by the Initiative Foundation in Little Falls, have
been fighting poverty through activities such as financial literacy training,
youth development and job skills development while helping people in poverty
access basic necessities for living and means for getting ahead. Through its twelve year partnership with AmeriCorps
VISTA, Initiative Foundation VISTA members have helped their organizations coordinate
over 31,000 volunteers, who have served over 283,000 hours, and raise over $2
million in grants and contributions and another 1.2 million dollars in donated
goods and services.
Julie Jo Larson, a 2012 CLC honors graduate, will be CLC's Presenting Yourself coordinator during the coming year. She is enrolled for the fall and winter terms as a student of the College of St. Scholastica, which offers courses through its presence on the Brainerd campus of CLC.
Julie Jo maintained a 4.0 GPA as a student in the new Honors
Associate in Arts degree program. She was president of the Upsilon Omega chapter
of Phi Theta Kappa honor society and tutored other students in several academic
areas.
She was named to the 2012
All-Minnesota Academic Team and awarded several scholarships for her achievement
and leadership efforts.
She is one of just three college
students in the state to receive a Minnesota TRiO scholarship of $1,000. TRiO is
the student support service for first-generation and other qualifying students
that aims to ensure fulfillment of educational goals. Nearly one-fourth of CLC
students are the first in their family to attend college.