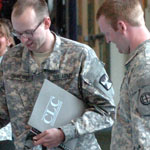 Central Lakes College in Brainerd on Wednesday hosted the state's first veterans welcome event to bring together college, business, community, and service provider representatives. The event honored and welcomed back veterans while linking them to career and education opportunities and acclimating them to civilian life. Several hundred people attended the three-hour event. During a Veterans Celebration Program in Chalberg Theatre, Spc. Daniel Ferrian, a CLC nursing student and Iraq War veteran, admitted "I didn't come home to a job. It was tough…now I am in school. I wouldn't be that successful if it wasn't for CLC and the VA and other great services that are here to help tonight." Other program participants were Sgt. First Class Kathy Marshik, Ret. Sgt. Marshall Tousignant, the Little Otter Drum Group, CLC President Larry Lundblad, Re. Maj. Gen. Rick Erlandson, and Congressman Chip Cravaack.
Images: http://www.flickr.com/photos/58518185@N04/
For more about the event see the Brainerd Dispatch article by Jessi Pierce and images by Kelly Humphrey at http://brainerddispatch.com/news/2012-06-13/clc-event-gives-back-war-vets-who-gave-so-much
and the Lakeland News TV report by Shane Lee at http://www.lakelandptv.org/index.php?option=com_content&task=view&id=35&Itemid=97&show=3&newscast=1484
A special EZ Enrollment Day for military veterans and their family members is on the Brainerd campus June 28. Those enrolling for the fall term may complete the process in a single day and leave with schedule in hand.