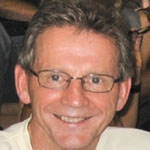 Former Brainerd School District superintendent Bob Gross
will return to his roots when he presents "Education – Around the World and
Back Again" at 4 p.m., Monday, June 18 in the Chalberg Theatre at Central Lakes
College in Brainerd. The presentation is sponsored by the
Center for Lifelong Learning and the Brainerd Public Schools Foundation. Gross will discuss the comparisons
of private versus public sector education, both here at home and abroad; as
well as his observations of educating youth. He will also share stories of his
experiences while serving as a superintendent in Brainerd and Singapore, as
well as thoughts regarding upcoming work in Abu Dhabi, United Arab Emirates and
Vienna, Austria.
A reception will follow the
presentation, allowing participants to meet and greet Gross.
Gross worked through the ranks from
his first job as a teacher in Waubun, Minn., where he was assigned to run classes
in business law, typing, physical education, and health. He was assistant high
school principal, junior high principal, assistant superintendent and finally
superintendent in the Brainerd School District between 1968 and 1999.
From 1999 to 2007, he served as Superintendent
of Schools at Singapore American School; from 2007-2012 as Regional Education
Officer for Europe with the Office of Overseas Schools – U.S. Department of
State
In 2006 he was named International School Superintendent of the Year by the Association for the Advancement of International Education.
"Could a North Dakota farm boy with a smallish frame, bookish
appearance, understated speaking voice and aw-shucks humility possibly be a
good fit to lead a powerhouse, cosmopolitan private school for American
students living abroad, whose governing board consists mainly of high-flying
corporate executives and well-heeled attorneys?" asked Jay P. Goldman in a
March 2005 profile for The School Administrator magazine.
"The answer today is a decided yes, but the 12-member governing board of
the resource-rich Singapore American School harbored serious doubts when Bob
Gross submitted his candidacy for the top post five years ago. The school
board's search consultant assessed his chances so dimly against an experienced
pool of international headmasters that Gross, then in his 18th year as
superintendent in Brainerd, Minn., had to pay his own way to Oregon for a
preliminary interview."
Gross has been hired by the Board of the American Community School in Abu Dhabi to be the interim superintendent for 2012-13 in Abu Dhabi, the United Arab Emirates. Starting in 2013 he will serve as superintendent of the American International School in Vienna, Austria.
Admission for the June 18 program is $5 for
non-members or free for those with a Center for Lifelong Learning membership.
Pre-registration is required and can be made by calling Bev at 218-855-8118.