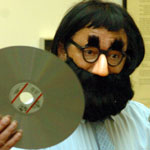 The performance of an imitator was the highlight of yesterday's tribute to retired Central Lakes College instructor Joe Plut. Midway through the program, a near-perfect imposter waddled to the podium looking and sounding distinctly like the Mad Hugger in his Creative Communication classroom days. As Joe would say, he was "very amused" by this "grand" gesture. It was a "mesmerizing" performance by friend and former colleague Larry Kellerman, college librarian. The hilarious parody captured mannerisms and idiosyncrasies that are exclusively Jot Plut.
Others speaking during the tribute were Sally Ihne, retired CLC president; friends and former colleagues Ray Frisch and Evelyn Matthies, and CLC President Larry Lundblad as well as students Nalrah Hicks and Julie Jo Larson, recipients of 2012 Joe Plut Scholarships.
At the conclusion of the event, Joe presented Liz Csanda of the Good Samaritan Society with a needlepoint created by the late resident Mildred Stave, whose original $3,000 donation originated the endowed scholarship fund that has reached $38,000.