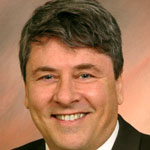 Dr. Larry Lundblad of Central Lakes College, Brainerd and Staples, is one
of 20 college presidents receiving the 2012
Shirley B. Gordon Award of Distinction. The award was presented April 13 in
Nashville, Tenn., at the national convention of the Phi Theta Kappa honor
society for two-year colleges. College presidents are selected for this award on the basis of
outstanding efforts given toward
promoting the goals of Phi Theta Kappa. The Award of Distinction is named
after the late Dr. Shirley B. Gordon, who served as Chair of Phi Theta Kappa's
Board of Directors for 20 years. She was President Emeritus of Highline
Community College in Washington. Lundblad was nominated by Julie Jo Larson, president of the Upsilon
Omega chapter of PTK at Central Lakes College, along with other PTK members.
"We consider President Lundblad to be a gentle, quiet leader who is
among the first to acknowledge others and celebrate their success," Larson said.
"He is also a believer in group decisions versus those dictated by the
individual leader. He's a good listener and an inquirer, getting all the facts
before making a decision."
Larson said she had Lundblad as an instructor 25 years ago, when he
taught a "credit and collections" class at Mankato Technical Institute, which
later became South Central College. "I thought he looked familiar when I
started taking classes at CLC," she smiled.
Lundblad was an instructor in the Sales and Marketing program at the
Mankato school. He later became a dean of curriculum, vice president, and chief
academic officer at South Central before appointment as president of CLC in
2006, when his ability to build partnerships with business and school districts
were among attributes validating the appointment.
He earned a doctorate from the University of Minnesota with emphasis in
career, technical and adult education. His two master's degrees are in
psychology and continuing studies. His two bachelor's degrees are in
horticulture-agronomy and history-political science.
Lundblad is active in several local organizations and contributes time
to national endeavors such as the Higher Education Learning Commission, for
which he has served as a consulting evaluator for the Accreditation Review
Council.
"Central Lakes College has a long history of commitment to PTK," said
Lundblad. "We are fortunate to have committed, long-standing faculty leadership
in our local chapter and our region. As
a result, many successful students have evolved from the ranks of our local PTK
Chapter."
The Gordon award recipients have
provided extensive support and a variety of resources for their colleges' Phi
Theta Kappa chapters, including faculty advisor release time, a line-item
budget for the chapter, financial support for chapters to participate in
regional and international events and scholarships for Phi Theta Kappa members.
Many of these presidents speak at their chapter inductions, serve as statewide
Phi Theta Kappa presidential ambassadors and coordinate All-State Academic Team
programs.
Phi Theta Kappa Honor Society,
headquartered in Jackson, Miss., is the largest honor society in American
higher education with 1,280 chapters on two-year college campuses in all 50 of
the United States, Canada, Germany, the Republic of Palau, the Republic of the
Marshall Islands, the Federated States of Micronesia, the British Virgin
Islands, the United Arab Emirates and U.S. territorial possessions. More than 2.5
million students have been inducted since its founding in 1918, with
approximately 135,000 students inducted annually.