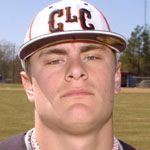 The Baseball Raiders of Central Lakes College swept Minnesota West in tennis-like scores,
6-2 and 6-4, Tuesday at Findorff Athletic Complex. In the opener, freshman Jared Hoemberg (shown), former Bertha-Hewitt standout, and Peter Lucken, a Melrose sophomore, hit home runs and combined to drive in
three of the Raiders' six runs. Dustin Motschenbacher pitched his first win. Josh Edward shit a two-run double. The Raiders rallied to win the nightcap, as they trailed going into the bottom of
the sixth. With the bases loaded, Johnny Egan hit a sacrifice fly followed by
consecutive RBI singles by Hunter Young, Tyler Lenz and Trey Thompson to clinch
their third conference win. Thompson added a double and pitched the win. Division: CLC 2-2. Overall: 6-28. Next: Ridgewater at CLC 2 p.m. today
(2), weather-permitting.