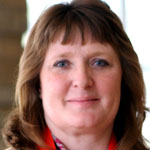 Julie Jo Larson and Jonathan Hammer, Central Lakes College honor students, were named to the 2012 All-Minnesota Academic Team, a 40-person list from public two-year institutions. Nominations are based on outstanding academic performance and service to the
college and community. The national honor society Phi Theta Kappa, two-year college presidents, and community college state
associations co-sponsor All-State Academic Team recognition.
At CLC Julie Jo is president of the Upsilon Omega chapter of PTK, and she attended the recognition event March 30 in Eagan to receive her medallion and certificate.She also has
been named a Silver Scholar by the Coca Cola Scholarship Foundation in its
Community College All-Minnesota Academic Team program, which includes a $1,250
scholarship and recognition in USA Today. She
is one of just three college students in the state to receive a Minnesota TRiO
scholarship of $1,000. She will pursue a social work degree at the College of St. Scholastica following graduation from CLC and the Honors AA Degree program.
Jonathan is an Advanced Placement Scholar who received the President;s Award for Education Excellence. He is in the Science Club at CLC as well as Civil Air Patrol and the Interact Club. He is pursuing a career as an aerospace engineer and heads to the University of Minnesota after earning his Associate in Science degree in Engineering at CLC.