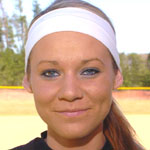 New Ulm sophomore Hayley Hornick (shown) scored four runs, drove in three more and stole five bases, but
the Central Lakes Raiders had their softball home opener spoiled by Itasca Tuesday at Findorff Field on the CLC campus. They dropped a the Northern Division
games by scores of 8-7 and 15-7 in Minnesota College Athletic Conference action. Itasca is good team, as usual, and the Raiders didn't get things done defensively. In Game One, the scored was knotted 7-7 after six innings before the Vikings scored in the top of the seventh to escape. Hayley and Jenni Smolke both went 3-4, while Rebecca Anderson contributed a
triple and Desirae Guscette doubled. Samantha Harting took the loss, striking out four and giving up
eight hits. In Game Two, the Raiders grabbed a 4-0 lead and belted extra bases on five of their seven hits.
Kaylie Hanson tripled and Hayley H, Desirae, Carlie Sweet and Nicole Marcy all
doubled. On the hill for CLC, workhorse Samantha gave up just one earned run in each game, but the Raiders committed
seven errors in the first and eight in the second. Northland is at CLC Thursday for a 3 p.m. start.