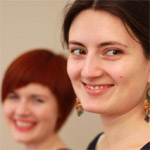 Nisswa-stämman Scandinavian Folk Music Festival and The
Center for Lifelong Learning are proud to present a "pre-Nisswa-stämman"
Swedish folk music concert at 7 p.m. on April 17, in the Music Recital Hall at
Central Lakes College in Brainerd. Ellinor Fritz on violin and Leonor
Palazzo on cello are guest performers at this event, which includes a free-will
offering at the door. All proceeds go to the artists. Coffee and snacks will be served
after the performance.
Ellinor Fritz and Leonor Palazzo
met at the Academy of Music and Drama in Goteborg, Sweden, from which they
graduated. After many years playing together in the Swedish folk group Kurbitz,
they decided to explore the essence of traditional Swedish music as a duo. Fiddle
and cello share a common sensitivity for the incredibly rich musical landscape
of Dalarna, Sweden, where the Sister City of Brainerd – Leksand – is located.
Ellinor Fritz is a young
Riksspelman (National Fiddler of Sweden) from Dalarna. She has toured Europe
and China both as a soloist and as a member of the bands Kurbitz and Lü Xing. She
works as a freelance musician and teacher of folk music.
Belgo-Argentinian cellist Leonor
Palazzo inherited a deep interest in baroque music from her mother,
harpsichordist Paule Van den Driessch. She earned her master's in cello at the
Royal Conservatory of Brussels in 2009. She then decided to broaden her
horizons by discovering traditional Swedish music and she embarked on a
year-long course at the Academy of Music and Drama of Goteborg under famous folk
musician, Hans Kennemark.
She is now living in Goteborg, the beautiful
second largest city in Sweden, located on the southwest coast. With the Nordic
band Kurbitz, she and three fellow students played concerts in Europe,
including a performance at the Royal Palace in Stockholm. Leonor also has a
special interest in dancing and loves to dance and play for dancing as well.
For more about Ellinor and Leonor go to http://ellinorleonor.bandcamp.com
For information about the
performance call Paul Wilson at (218) 764-2994, or Bill Brekken at (218) 855-8146.
For specific information on location of the Recital Hall, call the general
college number, (218) 855-8000 or 800-933-0346, or download a college map at http://www.clcmn.edu/general/maps/BrainerdCampusMaps/BrainerdmapLarge.pdf
The 13th Nisswa‑stämman Scandinavian Folk Music Festival is
set for June 8 and 9. The Saturday line-up has more than 100 musicians on three
stages, two dance floors with free instruction, a children's activity tent, and
great Scandinavian food under the Norway pines of the Nisswa Pioneer Village. For
information email Wilson at pwilson@brainerd.net or go to
http://www.nisswastamman.org/