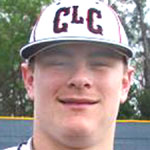 Itasca defeated the Raiders twice Tuesday, 4-3 and 15-8 at Grand Rapids, leaving CLC with a 1-19 record on the year. Jared Hoemberg (shown) hit a solo home run in the narrow loss and was
2-5 with RBI in the second game. The Raiders' Trey Thompson pitched all seven innings of Game One, striking out three,
walking one and scattering nine hits. Pete Lucken was 2-4 with two RBIs in the nightcap. Derek Pihlaja was 2-3 with
three RBIs and Joe Gaida was 2-2 and reached base in all four plate
appearances. CLC had one error in the first contest, 3 in the second and was outhit, 9-7 in the opener and 13-10 in the finale. Next: Hibbing at CLC, Tuesday, April 3, 2 p.m. (2 seven-inning games scheduled).