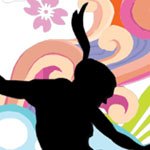 The Central Lakes College Children's Theatre class will
present "Alice's Excellent Adventure in Wonderland" by Dennis Lamberson for the
public in the Chalberg Theatre Sunday, April 22 at 1 and 3 p.m. The show,
which runs about 45 minutes and doesn't have an intermission, will also be
staged for school groups of elementary-age pupils, with tickets not on sale to
the public, at 10 and 11 a.m. on April 17, 19, and 26 and 10 a.m. on April 24.
On a lazy summer afternoon, Alice can't believe her eyes when a white
rabbit wearing a waistcoat and carrying a pocket watch dashes by her. Alice
chases after him only to fall down a rabbit hole and arrive in a strange land
where common sense fails and nonsense reigns supreme!
Throughout her curious and bizarre
predicaments, Alice remains sensible and reasonable in spite of meeting an
excitable Mad Hatter, a grinning Cheshire cat, a grumpy Humpty Dumpty and the
temperamental, croquet-playing Queen, and more.
Based on Lewis Carroll's unique and
unforgettable classic, Central Lakes College's new version has been adapted for
young audiences while keeping the fun and fantasy of the original. This
production is suggested for children as young as five.
Any sold-out performances will be posted in
the "Latest News & Updates" at www.clcmn.edu/arts
Admission is $5 per person. Children 10 and
under are admitted for $3. Tickets may be purchased at www.clctickets.com or at
the box office. CLC students may purchase 25-cent tickets with their student
identification card at the box office.
School matinee tickets may be available, so
those interested may contact the box office and have your contact information, which
date and time, and how many in your group.
The Box Office number is (218) 855-8199 and
the e-mail address is clctheatre@clcmn.edu