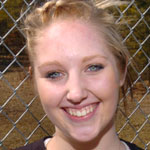 Pitcher Samantha Harting, a sophomore from Pillager, returns to the
Central Lakes College fast-pitch softball team from her 19-win season last
spring. But she is the only pitcher on the pre-season roster and one of just
three sophomores anchoring the young 2012 Raider squad. The Raiders
are inexperienced but athletic, with nine promising freshmen taking up their
first season of college ball. Their first tests are this weekend with games vs.
Hibbing, Itasca, and Mesabi Range on Friday and a double header at St. Cloud
Saturday. Last year Harting worked
more than 200 innings on the mound during the 20-15 season in which the Raiders
won 13 of 20 Northern Division games. She was 19-14.
"Sam was our starting pitcher, a real workhorse," said Head Coach Greg
Medeck. "We are expecting her to again handle those duties."
Also back from last year's
team is Heather Hejhal of Verndale, an infielder who played much of the time
with a cast on her injured throwing hand. "We're hoping for her to bounce back
after an injury-plagued season," said Medeck, who is in his third year as head
coach and has a 47-31 record.
Rebecca Anderson of Cherry
is a sophomore outfielder with Second Team All-Division credentials from last
year with the Hibbing Cardinals. "She will definitely anchor things for us in
center field," Medeck said.
There is a great deal of talent in our
first-year players," the coach added. "I really like how things are
coming together in practice, and I believe the girls are working into their
positions well.
"I believe we will be a well-balanced team. The conference is always
challenging, but I feel like we have made good progress over the last couple
seasons. Hopefully this will be the year in which we take that next step."
Top freshmen include infielders Kaylie Hanson of Pillager, Hayley
Hornick of New Ulm, and Jenni Smolke of Brainerd, and catcher Carlie Sweet of
Brainerd.
Despite their youth, the players have athleticism and familiarity with college-level
competition. Hornick, Sweet, infielder Kaylie Hanson of Pillager and outfielders
Alanna Hansen of Brainerd and Samantha Heagerty of Laporte were all members of
the 2011 CLC volleyball team.
Other freshmen include infielder Lena Montano of Aitkin, who was a
member of the 2011-12 CLC women's basketball team; Desirae Guscette of Belle
Plaine; and infielder/outfielder Nicole Marcy of Pillager.
Medeck said he believes he has a team of good position players who may
be strong at the plate as well. "If we stay healthy and develop as a team, this
should be a fun group to watch. Experienced pitching and solid defense should
keep us in each game. Our success will likely be determined by our ability to
swing the bat."