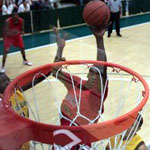 The Central Lakes College Raiders (29-4) put together the best 20 minutes of the tournament and perhaps their best half of the season to defeat Brookdale, 85-75, outscoring the Jersey Blues, 51-32, to take fourth place in the championship meet today in New York. Brandon Davis was unstoppable inside, Ronnie Kornbaum cut loose outside, Michael Farrington played his usual great defense and fired pinpoint passes to assist his teammates. Kwamaine Johnson stroked a bunch of free throws and popped to the hoop for a couple fast-break lay-ups in the great comeback. Fouls threatened to stall the comeback, as Maurice Hernandez and Ronnie K each picked up four, but CLC dominated on defense to create chaos for the losers from New Jersey. Congrats, Raiders!
Ronnie was named to the nine-player All-National Tournament team.
Halftime deficit
The Raiders trailed Brookdale (New Jersey) Community College at the half, 43-34, in the NJCAA Division III tournament. The championship meet was played at Loch Sheldrake, N.Y., 100 miles north of NYC, where it will be staged again in 2013 and where the Raiders would like to return. They will have several returning standouts to lead that vision. The Jersey Blues (28-4) were the top-ranked team in the final poll, while the Raiders were ranked second. Turnovers plagued CLC early, and the Brookdale inside game brought numerous lay-ups or fouls, resulting in quite a few points from the line. Michael Farrington hit some big shots as the Raiders fought back late in the half, putting together a 7-0 run capped by the first three-point basket of the tournament for Maurice Hernandez. That made it, 36-32. But the Jersey Blues then closed out on a 7-2 run as CLC coughed it up and provided the opponent a handful of inside scores.