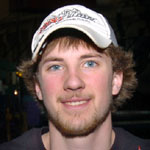 Tyler Gangl of Pierz, a welding student at Central Lakes College
recently received $100 from the American Welding Society. He won the Gas Metal
Arc category at Behind the Mask, a competition held at Anoka Technical College,
sponsored by AWS. Gangl, 19, is one of 14 CLC welding students among the more than 100
students and professionals who competed in Gas Metal Arc and Gas Tungsten Arc
Welding processes. Instructors and professionals competed in Shielded Metal Arc
welding and Oxy Acetylene Cutting processes. With the use of welding equipment provided by Anoka Technical College, contestants
were provided a blueprint, materials, and filler material to complete the given
weld. Each was given 25 minutes to
interpret the blueprint, welding symbols, tolerances, and measure, assemble,
tack, and weld the components to specifications. An AWS-certified weld inspector judged the results using criteria based
on industry standard.
Gangl is familiar with welding and mechanical devices. He was raised on
a family dairy farm and for several years has welded as part of duties during
employment at farm operations in the Pierz area.
The top three contestants in each of the four categories were awarded
cash prizes from the American Welding Society Northwest Section 19 committee.
"Tyler is a top first-year student who is fully engaged in learning the
trade of welding," said Mike Reeser, CLC instructor. "It is because of his keen
eye, thorough examination of the blueprint, and ability to apply this knowledge
in the given time allotment that Tyler was able to perform at this level."
This was the first time CLC has competed in Behind the Mask, which is a
precursor to the Skills USA competition March 23-26 in the Twin Cities.
Other CLC students participating in the competition at Anoka were Ruben
Martinez, Stephanie Burley, Jon Nieman, Paula DeMars, Chris Hillman, and Shawn
McQuiod, all of Brainerd; Jordan Hultgren, Pepin, Wis.; Jesse St. Marie, Bemidji;
Seth Strassburg, Burtrum; Jennifer Koering, Ft. Ripley; Bradley Pierson, Wadena;
Brent Best, Nisswa; and Brady Loftis, Pillager.
Students who are scheduled for Skills USA competition include Blake
Roth, Deerwood; Matt Rutske, Nisswa; Dustin Hines, Brainerd; and Pierson,
Strassburg, Martinez, Hultgren, St. Marie, Koering, and Loftis.
For information about the welding program at Central Lakes College or
this competition contact Reeser at 218-855-8086 or mreeser@clcmn.edu