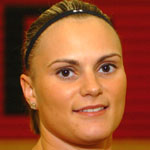 Slow start dooms men
The Central Lakes College Raiders lost, 69-65, to the Anoka-Ramsey Rams in a Southern Division game Saturday at CLC, falling behind in the first half, 39-24, and unable to recover. The loss was only the second in 24 games for the top-ranked team. The Raiders came out flat, said sophomore co-captain Maurice Hernandez, who scored 18 points. "They were being really physical, so I had to be more physical and start
attacking the basket more," said Hernandez. "They just outplayed us
tonight. They got every loose ball, every foul they made important free
throws." The winners made 17 of 24 free throws and 24 of 46 shots from the floor (52%). The Raiders finished at 50% from the line and 46% from the field. Michael Farrington scored 13 (8 in the first half), and Ronnie Kornbaum had 11.
Women lose to top team
Turnovers cost the Raiders in a 64-44 loss to the Anoka-Ramsey Rams in a Southern Division game
Saturday.
It was the Raiders' fourth consecutive loss. Anoka-Ramsey , the defending national champion, is ranked No. 1 in NJCAA Division III. The Raiders remained close through the first half, hitting 75% from the line, but the Rams scored 15 points off turnovers for a 31-27 halftime edge. Lindsey Roos (shown) managed 15 pints to lead the Raiders, who converted 42% from the field and 40% from the line. Next: Mn West here Sat., Feb. 18, women at 1, men at 3.