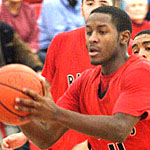 Men win 20th
Michael Farrington (shown) hit the game-winner with one second left to
lift the NJCAA III second- ranked Central Lakes College Raiders over the
Rochester Yellowjackets, 77-75, in a Minnesota College Athletic Conference Southern Division game Wed., Feb. 1 at Rochester. CLC went into the half down two in a game that saw many lead
changes and was tied with 16 seconds left to play. "This felt like a playoff game. Rochester doesn't lose very often at home, so
it is a great win on the road, " CLC Coach Jim Russell told the Brainerd Dispatch. Jesse Fleming scored 21 and had 7 rebounds, Maurice Hernandez tallied 19 points (his division-leading average), and Kwamaine Johnson had 17 points for
the 20-1 Raiders. Kwamaine added seven rebounds and eight assists. "Johnson had a great game," Coach Russell said. "We played well as a team with 21
total assists and 53 percent shooting from the field."
Women fall
Jalynn Lamb scored 11 points for the Raider women in a 72-42 loss at Rochester. Jalynn had four rebounds. Lindsey Roos had 8 points, Caitlyn Robinson 6, Lena Montano and Emily Weber 4 each. "What hurt us were turnovers," said Coach Dennis Eastman. "We had 32 and they scored 31 points off them.We just need to take better care of the
ball." At 5-1 in the division, the Yellowjackets are in second place while the
Raiders have lost three of their last four. "Inconsistent. Last Saturday we played great, tonight we didn't play until
the second half," Eastman said. CLC is 2-4 in the division and 8-11 overall. Next games for CLC are Saturday at home vs. Ridgewater, with the women at 1 p.m. and men at 3 p.m.