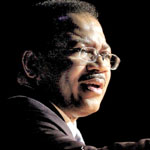 In observance of Black History Month, the Central Lakes College Diversity
Leadership Council on Tuesday, Feb. 7 will host a free, public presentation,
"The Dream Alive," as a tribute to Dr. Martin Luther King, Jr. and the Civil
Rights Movement. Co-sponsor is the Minnesota Department of Human Rights. The 90-minute presentation starts at 10 a.m.
in the Brainerd campus gymnasium. Joe Rogers (shown), who served as the youngest lieutenant
governor in the United States during his time in Colorado, presents the moving
remembrance. "The Dream Alive" is an acclaimed, positive and uplifting dedication that
has been presented at colleges, corporations and conferences throughout the
country. The commentary
will take audience members back in time to the renowned 1963 March on
Washington where King delivered his "I Have A Dream" speech — to his final words
delivered in 1968 in Memphis, Tenn. The Central Lakes College Diversity Leadership Council has
invited college and high school students, faculty, staff, members of the Center
for Lifelong Learning, and the greater community to come to the Brainerd campus
for a remarkable morning in dedication to keeping the dream alive!