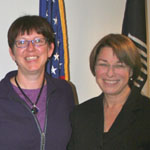 Kari Frisch of the CLC speech faculty was the only
Minnesotan attending the Dec. 6-10 United Nations World Food Program White
House Community Leadership Series in Washington, D.C. She had taken a class last fall offered by the organization
and the ONE.Org Campaign that focused on global hunger and advocacy. As part of
that course, Kari created a social networking advocacy, the Eleventh Hour
Challenge, to raise money and awareness to combat local and global hunger. Her
effort enlisted followers of her Facebook page to pledge resources for the
cause. "It was an exciting surprise that came at the end of the
class," said Kari. "We were invited to Washington to be part of the White House
Leadership Series."
The staff at ONE organized an advocacy day on Capitol Hill
as part of the event. Meetings were arranged with the staffs of Senators Al
Franken and Amy Klobuchar as well as Rep. Chip Cravaack.
"Senator Franken's office had on a wall 30 pennants from
Minnesota schools, including Central Lakes College," Kari noted in her
five-minute, digital video report of the trip.
Kari received tickets to the gallery, where she was able to
watch Klobuchar preside over the Senate floor.
"It was interesting to see democracy at work inside and
outside the Capitol," she said, illustrating the experience with a shot of
Occupy Washington protesters of domestic and foreign policies.
The trip included several tours of special sites, such as
the Newseum, National Museum of American Indians, U.S. Holocaust Memorial
Museum, Supreme Court Building, Library of Congress, historic monuments and
architecture, and the Eisenhower Building, where national dignitaries led meetings
focused on issues of human welfare on a global scale.
"It kept me busy, as there was a lot to do and see," she
said.
The group enjoyed a tour of the White House, which was
decked out for the holiday season.