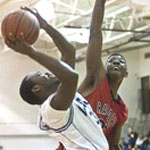 Photo courtesy of Brian Korthals, Worthington Daily Globe
Men
Minnesota West trailed 16-1 six minutes in and 37-24 at the half but ended the top-ranked Raiders' 18-game winning streak in a 63-61 upset in a Minnesota College Athletic Conference Southern
Division game at Worthington Wed., Jan. 25. Brandon Davis led the Raider scoring with 15 points, followed by Maurice Hernandez with 14, and Kwamaine Johnson and Ronnie Kornbaum with 11 each. CLC shot just 31 percent from the floor (21-67) and couldn't find the outside shot, making just 5 of 23 (21 percent) in the coldest output of an otherwise stellar campaign. The Bluejays, who out-rebounded CLC, 48-40, raised their record to 9-8, 3-1 in the Division to share the runner-up spot with CLC. Minnesota State Community and Technical College (Fergus Falls), which edged Riverland Wednesday, 79-77, leads the Division at 4-0. The Spartans of M State (13-6) come to Brainerd Saturday for a huge showdown and a chance for the nationally-ranked Raiders (18-1) to start a new win streak against a traditional hard-nosed rival. Game time is 3 p.m.
Women
Minnesota West Coach Mike Fury notched his 400th win of a 31-year career as head coach of the Lady Jays as the home team defeated our CLC Raiders, 70-35. Through the first 12 minutes, CLC played tough against the 13-6 Southern Division powerhouse, trailing by just 14-10. By the midpoint, the spread grew to 30-16. Early in the second half, CLC challenged the leaders by closing the gap to 30-20. A 28-10 run put the winners out of reach at 58-30 with six minutes left. CLC shot just 23.4 percent to 38.6 percent for the Lady Jays. Nikki Pearson managed 10 points for the Raiders (7-10). M State (10-9) is the next foe for CLC in a Saturday home game at 1 p.m. in Brainerd. Both teams have just one Division win.