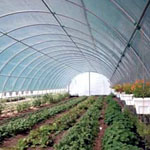 Guest speakers from three Midwest universities are among speakers scheduled
at the Feb. 8 and 9 Minnesota High Tunnel Conference in Baxter. High tunnels, or hoophouses, are unheated greenhouses that can help
market gardeners extend their growing season so that they can improve the
profitability of their farms. Mary Gardiner of Ohio
State, Russ Groves of Wisconsin, and Cary Rivard of Kansas State will lead
sessions during the event that begins with a separate half-day beginner
workshop. The event promises the latest research, demonstration reports and
grower discussions on high tunnels and season extension in Minnesota. Held at the Lodge at
Brainerd Lakes, the conference co-hosts are the University of Minnesota
Extension, the College of Food, Agricultural and Natural Resources Sciences at
the U of M, North Central Sustainable Agriculture Research and Education, the
USDA's North Central Integrated Pest Management Center, Minnesota Department of
Agriculture, and the Central Regional Sustainable Development Partnership,
which includes the Agricultural and Energy Center of Central Lakes College,
Staples.
Gardiner's talk, to be given at 1 p.m. Feb. 8, is titled "Identifying and Enhancing
Beneficial Insects." Groves, who speaks at 8:45 a.m. Feb. 9, will address "Managing
and Controlling Whiteflies, Aphids, and Other Serious High Tunnel Insects." Rivard,
scheduled for 1:45 p.m. Feb. 9, will present "The Art of Grafting High Tunnel
Plants."
The after-dinner "bull
session" Feb. 8 is a traditionally popular time of opportunity to meet other
growers, discuss issues, and develop suggestions for future research.
Registration is $100 by
Jan. 30 and $125 thereafter, available through Sue Schuler at schul925@umn.edu or
Terry Nennich at nenni011@umn.edu or by calling 888-241-0885.