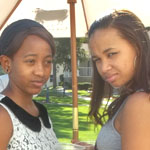 Shanice Hector (right) and Nqobile "Obi" Mahlangu of South Africa will present the
next Cultural Thursday program at Central Lakes College from noon to 12:50 p.m.
Feb. 2 in Chalberg Theatre on the Brainerd campus. It is free and open to the
public. Shanice, 19, is from
Cape Town and Obi, 20, is from Johannesburg. Both are majoring in Business, attending
CLC for one year through the the
Community Colleges for International Development (CCID) program sponsored by
the U.S. State Department. CLC was the first college in Minnesota approved for
participation three years ago. With a stunning variety of spectacular natural
environments, exotic wildlife, award-winning vineyards, historic townships,
uniquely sophisticated cities, world-renowned cuisine, and lively culture,
South Africa offers a journey of discovery like no other.
South Africa, officially the Republic of South
Africa, is multi-ethnic and has diverse cultures and languages.
About 79.5 percent of the South African population
is of black African ancestry, divided among a variety of ethnic groups speaking
different Bantu languages, nine of which have official status. South Africa
also contains the largest communities of European, Asian, and racially mixed
ancestry in Africa.
Although English is commonly used in public and
commercial life, it is only the fifth most-spoken home language. Education continues to receive the
biggest share of the country's budget.
South Africa has the largest economy in Africa,
and the 28th-largest in the world. About a quarter of the population is
unemployed and
lives on less than US $1.25 a day.
All ethnic and language groups have political
representation in the country's constitutional democracy comprising a parliamentary
republic; unlike most parliamentary republics, the positions of head of state
and head of government are merged in a parliament-dependent President.