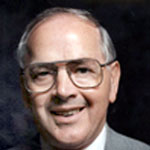 Dr. Jim Bensen, president emeritus of Bemidji State University, will present
a program in the Center for Lifelong Learning speaker series at Central Lakes
College Tuesday, Jan. 17. Jim will speak on how to "Make the Future Your
Friend" in a 6:30 p.m. event held in Chalberg Theatre, where admission is $5
but free to members of the Center. Jim has
been involved for four decades with the design and development of leadership
initiatives on the local, state, national and international levels. He enjoys
his role as an "ambassador without a portfolio" and "entrepreneur at-large." Formerly,
professor and dean of the College of Industry and Technology at the University
of Wisconsin-Stout, he has served as president of the Dunwoody College of
Technology and Bemidji State University. He retired as president in 2001.
He
speaks, writes and consults in the areas of change, technology, entrepreneurship,
quality, educational excellence, innovation and the future. He serves on more than a dozen boards,
consults with corporations, and contributes to innovations in education.
A native of Erskine, Jim holds a bachelor's degree from BSU, earned
a master's at University of Wisconsin-Stout, and his doctorate from Penn State
University.
During his career, Jim has served as a consultant to public and
private organizations throughout the world. He has worked with thousands of
companies, communities, universities and economic development organizations in
designing a "competitive edge for tomorrow."
He chaired a community revitalization initiative in Bemidji, and
co-chaired Destination
2025, the visioning process of the
BioBusiness Alliance of Minnesota.
The speaker series grew from the Center of
Lifelong Learning mission to offer life-enriching programs and opportunities
for community building, said Bill Brekken, coordinator. All programming is
designed to serve age 50-up.
Memberships provide discounts to all programs,
with top-level Founding Members and Sustaining Members earning exclusive
benefits. For information contact Brekken at (218) 855-8146 or
bbrekken@clcmn.edu
and to make credit card
payment call Beverly Berg at (218) 855-8118.