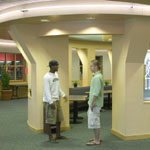 Changes are ahead for the Brainerd campus Student Services Department, according to Beth Adams, Dean of Students. Starting Monday, Dec. 19, office reassignments will relocate more than two dozen employees. "We are in the process changing our counseling and advising services model. After
Spring Semester, the Counselors will no longer be providing academic advising
services to students. Their focus will be on developing and implementing
retention programming and continuing to see students who are seeking personal and career counseling
services," Beth said. "We are making significant changes to office assignments and consolidating our 4
reception areas into one area on the Brainerd campus (the current
Records/Registration, Financial Aid, Business Office windows). There will no
longer be a reception area in the current Admissions and Counseling suite and
all students will be routed to the windows to make appointments or request
service. This change will provide us with a pool of support staff to whom we
are referring as generalists."
Mary DeVahl and Suzie Karsnia will serve as our counselors for the Brainerd
campus and Christina Kavanaugh will serve as the Staples campus counselor. Our Admissions Representatives (Dan Davidson, Joan Jenkins, Jenni Hirsch, Jill
Albie, Rose Tretter and Peggy Thorn) are in the process of being trained to
serve as Advisors. Their positions will serve to assist students with +80% of
their questions regarding financial aid, admissions and academic advising. An
additional advisor will be hired this spring and we will be hiring a Director of
Admissions and Advising Services to replace Charlotte Daniels who will be
retiring later this month. The new Generalists group includes Jan Sterner, Carrie Ray, Linda Bartylla and Elene Pawlu.
Phil Olson will be continuing with his cashiering duties but help us to provide
coverage at the reception desk as well. This model will allow us to better
serve students by reducing "bouncing" them from one window to another
and provide for sufficient back-ups to ensure coverage at the windows. Our
generalists are in the process of training for their new roles as well. To sum up, The Advisors and Counselors will be our "front line" staff and will see the
vast majority of our students and visitors. They will be located in the offices
in closest proximity to the reception desk (the Advisors in the offices down the
hall on the left as you are facing the desk and the Counselors down the
right-hand hallway). All of our Records/Registration, Financial Aid, and
various other administrative and/or processing staff will be located in the
current Admission and Counseling Suite. We anticipate that there will be
limited traffic to these offices given that the Advisors will be crossed train
to assist with most student questions.