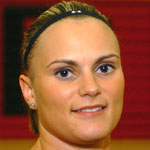 Men win 11th
The Central Lakes College men's team built a 62-36 halftime lead and defeated Rainy River, 120-89, Saturday at International Falls — win No. 11 for the second-ranked Raiders. Twelve Raiders scored and CLC made 47 of 98 shots (48 percent) from the field. The Raiders launched 38 from beyond the arc, converting 12 (32 percent). Maurice Hernandez led the scoring with 20 points, Brandon Davis added 17, Dylan Moorlag 15, Jesse Fleming 13, and Michael Farrington 11 plus 10 rebounds and 14 assists).
Women win 4th straight
The CLC women's basketball team downed Rainy River, 55-32, Saturday. Veteran Lindsey Roos (shown) scored 18 points and had five steals in one of her best games yet, and Elizabeth Mattson added 14 points, JaLynn Lamb 12 points and 9 rebounds, and Nikki Pearson hauled in 10 rebounds. The Raiders, who built a 30-13 halftime lead, have won four straight after losing their first five and are looking forward to going over .500 with games Friday vs. Fond Du Lac and Saturday vs. Rainy in the invitational at CLC.