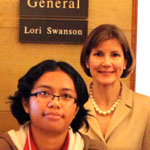 Central Lakes College
international students recently toured the state capitol in St. Paul and met
with Lori Swanson, state attorney general. The group included Carlos Solano Monestel, Costa Rica; Shanice
Hector, South Africa; Nqobile Mahlangu, South Africa; Dennis Musasizi, Uganda; Swanson,
Steve Wenzel (adjunct political science instructor), Karmila Seran, Central
Java, Indonesia; Genevieve Avevor, Ghana; Erich Heppner (director of student
life), Georgi Georgiev, Bulgaria; and Irshad
Hussain, Pakistan. The students were given a tour by
former state representative Wenzel. The tour included a visit to House chambers,
where the students learned about the significance of the art work and how legislators
produce laws when in session. The students also were also shown the Senate chambers
and the historic former Supreme Court chambers. The group met with
the Attorney General Lori Swanson.