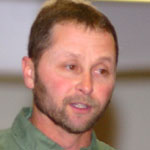 Forty students were recognized as fall
graduates of the Central Lakes College Heavy Equipment Operation and
Maintenance program at Staples on Nov. 23. Keynote speaker at the fall celebration was Andy Mack
of Strata Corp., Grand Forks, N.D., a member of the Heavy Equipment Advisory
Board at CLC. Zachariah Helton of Baxter and Tad Woessner of Fergus Falls shared Outstanding Student honors for their participation level and demonstrated teamwork. Instructors
participating in the event were Andy Anderson, Jeff Klehr, Mike Kuklok, John
Maleski, Michael Sams, Corey Uhrich, and Gordy Vierkant. Staff participants
included Jeff Wig, dean of career and technical programs and Staples Campus;
Pam Thomsen, executive director of the CLC Foundation and Alumni Association;
and Nancy Schmidt, Heavy Equipment Operations and Maintenance program coordinator.
Strata Corp. has hired numerous CLC
graduates.
Mack, who is employed as Earthmoving
Operations Manager in the Construction Division at Strata, also has worked for
the North Dakota Department of Transportation. He has a degree in Construction
Management from North Dakota State University and has 20 years' experience in
the profession.
Graduating this fall with diplomas
from the two-year program:
Aberdeen, S.D. – Wyatt Earsley.
Backus – Ricky Richards.
Baxter – Zachariah Helton (Outstanding Student).
Brainerd – Charlie Leibold, Cody Rehberger.
Burtrum – Shawn Barthel.
Deer Creek – Tyler Wohlwend.
Duluth – Layne Viaene.
Eagle Bend – Alexander Sandy.
East Grand Forks – Douglas Willet.
East Gull Lake – Jacob Clark.
Elk River – Zachery Frieberg.
Fergus Falls – Tad Woessner (Outstanding Student).
Hammond, Wis. – Noah Bollom.
Hastings – Thomas Beissel, Caleb Thurmes.
Hill City – David Olson.
Jordan – Jason Stocker.
LeSueur – Aaron Meyer.
Little Falls – Jordan Chaika, Joshua Hoheisel.
Merrifield – Skyler Robinson.
Milaca – Shawn Bekius, Mitch Rowland.
Mora – Seth Nelson.
Ogilvie – Cory Lewellin.
Park Rapids – Morgan Quinn.
Pine River – Kendall Swenson.
Puposky – Dylan Radke.
Randall – Tyler Leavell.
Royalton – Joshua Gill.
Rush City – Jordan Scheffer.
Saginaw – Storm Johnson, Adam LaFontaine.
Sauk Rapids – William Sufka.
St. Cloud – Brandon Lokken, Mark Palmersheim.
St. Peter – Jameson Johnson.
Staples – Corey Woodwick (Student Speaker).
Wadena – Nate Braith.