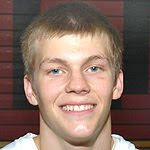 Men: Faulk leads win
Behind Nash Faulk's 28 points, the Central Lakes College men's basketball team defeated Minnesota West 80-56 Feb. 19 at CLC. The nationally ranked Raiders are now 25-2 on the year. On the same day Rochester lost to Anoka-Ramsey 73-64 giving CLC a share of the Northern Division title in the Minnesota College Athletic Conference with a 10-2 Division record. Marcus McDonald, who has been hurt for most of the season, received a rousing ovation when he got in the scorebook with a made free throw in the second half. "Marcus has always been a team leader for us, but he is also one of our main guys as a family man," Coach Jim Russell said. "He started the whole concept that we're a family. For a guy who didn't play all year being hurt it's been really hard on him. The guys wanted to see him do well and like I said it's a bunch of guys who grew up together the last two years and they really stuck up for each other." MCAC scoring power Marcus Ayala closed out his two seasons at CLC with 14 points in the win. The Raiders will play Hibbing 8 p.m. Friday, Feb. 25 in the first round of the MCAC state tournament at Anoka-Ramsey in Coon Rapids. That event wraps up Sunday, with the champion advancing to the Division III national tournament in New York March 11 and 12.
Women: Loss ends season
The Central Lakes College women's basketball team finished its season with a 95-41 loss to the Minnesota West Blue Jays Feb. 19 in Brainerd. CLC's Stephanie Neugebauer and Katie Hochsprung each finished with 12 points. The nationall ranked Blue Jays shot 50 percent from the field and won their 22nd game of the season. The Raiders struggled from the field, shooting just 24 percent from the floor. CLC finished 1-11 in Southern Division play and 8-19 overall.